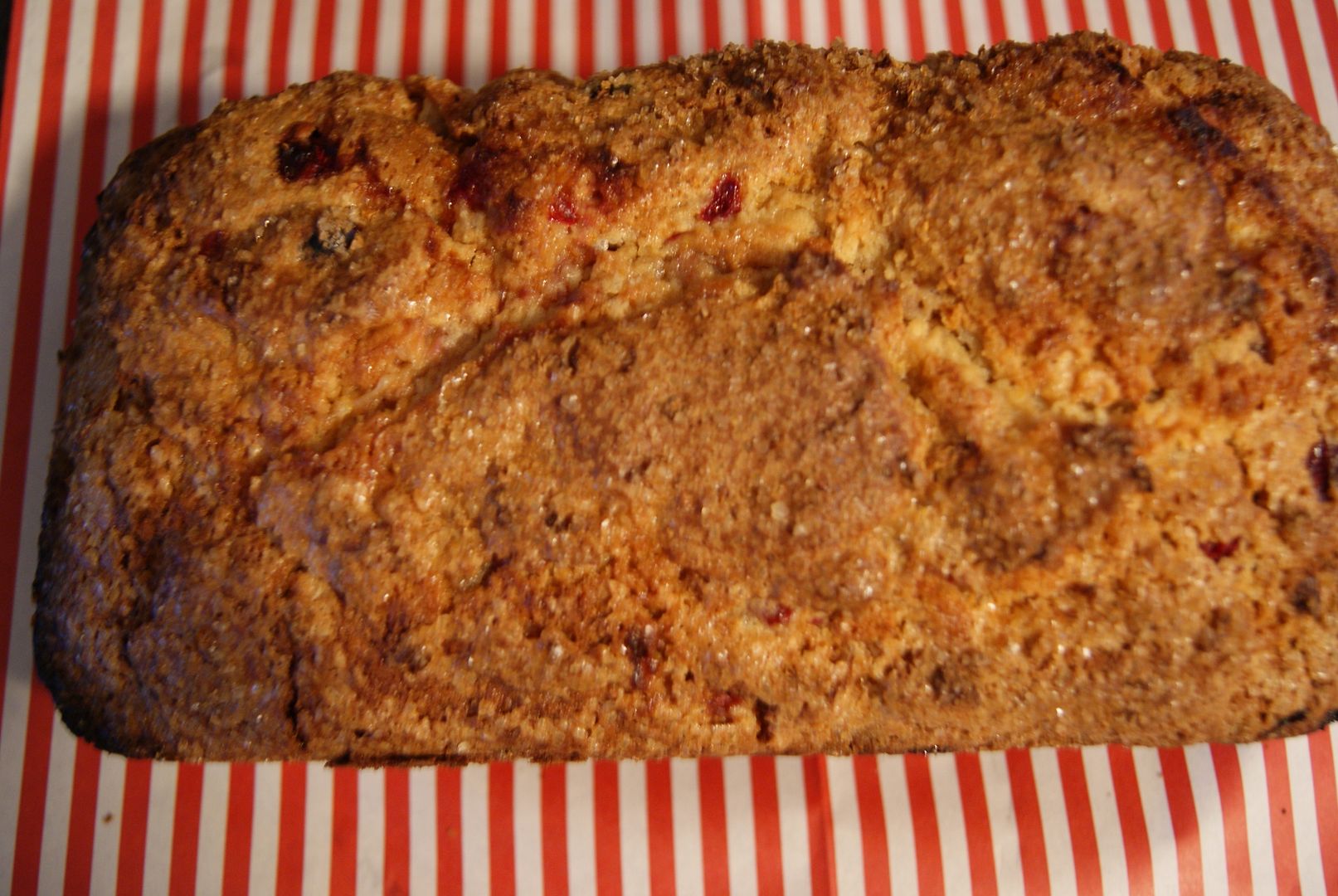 With Thanksgiving just behind us, I had an extra bag of cranberries in the fridge begging to be used!
(BTW, I didn't freeze nearly enough cranberries last year and had to buy a bag in August....the only store that stocked them was Whole Foods and I paid $4.89 for 10 ounces, ouch. Putting several bags in freezer as we speak, on sale for $1.88/12 ounces, very nice.)
I wanted a little something sweet, but not too sugary. I did an internet search for fresh cranberry bread recipe and of course several options popped up. None of them seemed to be exactly what I was looking for, so I altered Martha Stewarts to fit my taste buds. Here's what I came up with:
4 tablespoons butter, melted
2 cups all-purpose flour
1 cup packed light-brown sugar
1 1/2 teaspoons baking powder
1/2 teaspoon baking soda
1 teaspoon salt
1 large egg, lightly beaten
3/4 cup whole milk
1/4 cup orange juice
1/2 teaspoon vanilla
8 ounces cranberries
1/4 cup candied peel, cut into 1/4 inch pieces
Topping:
1 tablespoon turbinado or raw sugar
1 teaspoon orange zest
(I prepare the orange zest mixed with raw sugar in larger batches and keep in a ziploc baggie in the freezer for use on truffles, sugar cookies, gingerbread and garnishing an espresso or cappucino. Zest of 1 orange mixed with 4 Tablespoons raw sugar, mix to combine and let dry overnight on parchment lined sheet pan)
Preheat oven to 350 degrees. Grease and flour 9X5 bread pan. I like glass bread pans as they don't brown the crust as quickly as the metal pans do.
In a large mixing bowl, combine butter, egg, milk, orange juice and vanilla. In another large bowl, combine all dry ingredients. Stir together until a stiff batter has formed and stir in cranberries and candied peel. Pour into prepared pan and sprinkle with raw sugar/orange zest combination.
Bake 1 hour-1 hour 10 minutes checking with a cake tester. Remove and let cool in pan 15 minutes then turn out onto a baking rack or parchment paper.
It turned out amazing! Moist and tart, with bits of candied peel and a crunchy sweet top layer instead of icing!
A note about candied peel. I included the recipe in my cookbook "Seasons In My Kitchen" because I think grocery store peel is one of my top ten nastiest foods. Candied peel are super easy to make and winter is the best time as all the citrus shipped here in Michigan is at it's peak! I usually peel whatever citrus we are eating and keep them in the fridge for a few days until we have enough to make it worth the effort. I mix grapefruit, orange and lemon, occasionally I separate them, especially the lime. I then store it in the freezer up to a year to save cabinet space, but any airtight container will work and they will keep shelf stable for a couple months! Dip the peel into melted dark chocolate for a fabulous holiday treat or add to any number of baked goods....you'll never go back to commercially prepared peel!
Another note...there are no photos because Google is being a shit and making me pay for more space. Sorry. I'm being stubborn on principle for a couple days :)